World Trade Center Picture
New York City, NY 1998
Picture of the Manhattan skyline with the twin towers of the World Trade Center
This photograph was taken near sunset in the fall of 1998 from the Liberty Island Ferry.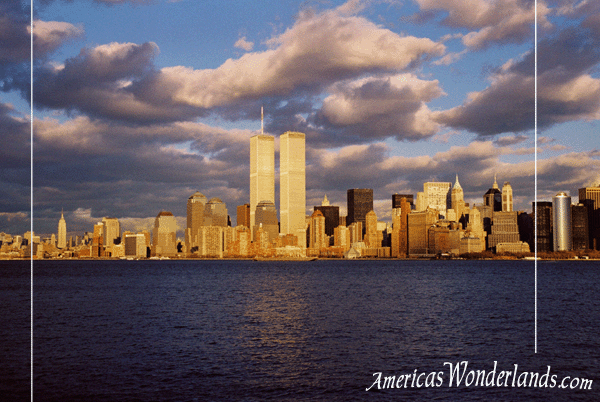 WTC Photo enlarged from 35mm negative.
8x12 & 4x6 photos appear as shown without the text or lines. Vertical lines indicate the edges of the 8x10.
The picture above was one of several photographs that I took back in the fall of 1998. I was on a business trip in the city and stayed an extra night so I could visit the top of the Statue of Liberty. I purchased a ticket on the Liberty Island Ferry and was amazed by the view of the city. Of the pictures that I took, this one is my favorite because the sun was setting behind me warming the colors of the buildings. - Kevin
Note: prints are signed K. Venator in the bottom right corner. AmericasWonderlands.com does not appear on the printed photographs.
The images below are scans of the Port Authority of NY & NJ World Trade Center visitor brochure from a previous family trip. They are provided in good faith for your information. I'm not sure of the publication date but it's probably around mid to late 80's.
World Trade Center Pictures
*** 3/10/2015 update: Photo print sales are being suspended. I am working full time at a "regular" job and have been enjoying family and other interests in my spare time. I will remove this message when re-engaging after a hiatus. ***
8x10 (with 11x14 mat) for $39.00
8x12 (with 12x16 mat) for $39.00
10x15 (with 16x20 mat) for $49.00
** Shipping is free **
*credit card processing by PayPal. Process will guide you through setting up a free account.
AmericasWonderlands.com
All site material Copyright 1998-2002 K. Venator