Digital Photography Tips - Suggestions for Taking Better Photos With Your Digital Camera
Photography tips in Article 1 include framing, using diagonal lines, including foreground, depth of field, filters, ISO, shutter speed, aperture, using a tripod, choice of film and tips for choosing between digital and film cameras.
Article 2 includes more photography tips and suggestions. Articles 3 (coming soon) will cover common photo editing tasks and Article 4 will talk about the various things you can do with the image files (e.g. printing, emailing).
Photography Techniques Article 2 Topics: Place, Patience, Timing, Light & Luck
Digital Photography Tips - Article 1
Click here to download a pdf version of the presentation.
(Acrobat Reader is required to view the PDF file. Acrobat Reader can be downloaded free for personal use from Adobe).
This page is in experimental format. Future articles are planned.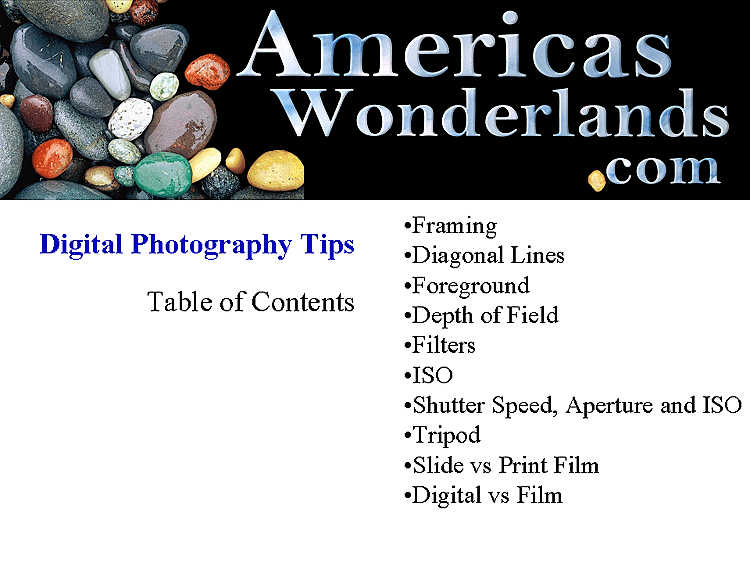 Photography Tips - Article 1 Addendum
Nearly identical photos - one taken with a polarizer, one without.
Go to article on photo interpolation - Image resizing
(talks about how big you can make enlargements from digital image files)
Go to the comparison of the interpolation tools
(compares images enlarged with different software tools)
Digital Photo Processing - AmericasWonderlands.com Imaging Services
(we make enlargements of your digital photos)
Site material copyright 2003 K. Venator
All rights reserved.
AmericasWonderlands.comTM, America's WonderlandsTM