Quality Large Prints From Your Digital Photos
We make enlargements of our photographs for our clients. We apply the same techniques to produce quality enlargements of your digital images.
Our hands-on approach to digital photo processing produces consistently better enlargements than is common with high volume digital photo printers.
You might be surprised with what we can do with digital images from your camera or scanner.
Digital photo enlargements up to 30x40
View Sample See Customer feedback
If you are shopping for quality, look no further.
We inspect each image, perform basic photo edits (saturation, contrast, sharpening, noise removal, etc.) and interpolate (upsize) the image file as needed prior to sending the file to print. Our process results in consistently better photographs than is common among high volume labs.
Interpolation is a resampling of the image file that improves the quality of large prints. Please click here to find out more about interpolation.
Customer Comments:
The photo came and it looks really spectacular, much better than I had hoped. Thank you...
- E.C. Los Angeles.
"YES YES YES, I gave it <the photo> to Mark on the 20th of November and he just loved it -- my parents took it to a framing store first and said that all the people that worked there just loved it too! ... thanks again for working on this, this is our all-time favorite picture and can't top that one (ain't even gonna try!)"
- D.D. NY
Thanks. The print arrived a few days ago and looks great.
- J.B. Tacoma, WA.
It <the photo> arrived and is FANTASTIC. Thank you for a great job. I'll be sending you another later today.
- J.R. Upperco, MD
I was VERY impressed with the photo.. it was better than i even hoped for.. my daughter ( in the pic ) was thrilled.. thanks and i will certainly use your services again - B.D.
FANTASTIC!!!! It is exactly what we wanted. - J.R. Upperco, MD
Received the photo today. It is outstanding and we are very pleased with
your work!
- H.J.B. Jacksonville, IL
Here's how it works:
you send us your your image file

we'll interpolate, edit and print enlargements of your digital images
Common edits include noise removal, sharpening, color balance, shadow/highlight adjustment, brightness/contrast (via curves/levels) etc.
Available enlargement sizes include: 16x20, 16x24, 18x24, 20x24, 20x30, 24x36 & 30x40 and any size up to 12x18. Available sizes are subject to change so feel free to inquire.
6 and 12 inch height panoramic prints are also available.
Email your questions and/or photo here for a review and comments:

Please include desired size and any particular requests.
*** PLEASE NOTE ***
*** OUR PHOTO ENLARGEMENT SERVICE IS CURRENTLY ON HOLD ***
If your email doesn't support sending large attachments, you might consider signing up for a free gmail, yahoo or hotmail account which are now supporting larger files up to 10mb.
Available Sizes and Prices (includes shipping):
up to 12x18 = $29
16x20 = $35
16x24 = $35
18x24 = $35
20x24 = $38
20x30 = $49
24x36 = $59
30x40 = $69
Panoramic print length and price will be determined after scaling. Feel free to send images for review or call to request pricing. We can merge the photos together for you.
Please feel free to call for more information (913) 707-7515. Information about the tools we use can be found here.
Note: this service is being well received by customers such that it may be moving to it's own web site ( www.ephotoz.com ). Just letting you know for future reference.
update: Jan 13, 2006 - a preview screenshot of our new site can be seen by clicking the link below. It's not quite ready yet but should be available in the next 2-3 weeks depending on order volume.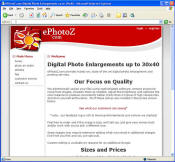 Update: Jan 25, 2006 - Please visit our new web site for digital photo enlargements at http://www.ephotoz.com
Our Advantage Over Your Local Lab
We'll interpolate your image
Photo interpolation is the process by which the number of pixels comprising an image is increased to allow printing enlargements that are of higher quality than photos that are not interpolated. Interpolation is commonly needed to make quality large prints from digital photos and film-scanned images.
Tell me more about interpolation
More information about interpolation including criteria for deciding if it's needed can be found here.
A review of the different digital image interpolation (resizing / resampling) methods can be found by following this link.
We perform image adjustments and enhancements as needed (or requested)
In addition to common image adjustments such as brightness, contrast and saturation, we perform noise (grain) removal and image sharpening. The end result is an enlargement of better quality than is common with the high volume labs. Each image is processed individually and given our full attention.
Before

After

(move your mouse over the image to see original)

click above image

to see larger image

The above 5x7 was electronically enlarged to 20x30 (proportional to the sample).

Other modifications are noted below.

Images scaled to fit the screen.

Original image file 2272x1520 (5x7.6 at 300dpi).

Resulting file: 9000x6021 (20x30 at 300dpi).

Image used with permission from customers Dawn & Mark Donohue

(pictured on their honeymoon)
The customer's image file was electronically enlarged using state of the art imaging software.

Noise reduction tools were used to remove digital artifacts which are present in most digital photos.

The color was adjusted to remove an unnatural yellow cast and modified to match the lab printer.

Photo layering, selective erasing and brightness/contrast adjustments were performed to lighten the subjects without washing out the background.

Editing tools were used to remove an unnatural border around the subjects (probably as a result of in-camera sharpening).

Editing tools were used to smooth unnatural color splotches on their skin

The image was cropped to a ratio matching the desired print size. Cropping also moved attention more to the subjects while retaining interesting elements (island, boat, coastline).

The image was sharpened.
Was the customer happy? See DD's comment - sidebar above.
While many of our customer's images don't require as much work, we'll do what we can to ensure the best possible print.
As an aside, there comes a point where the editing would take too much time to do without charging for Photoshop editing time. If this is the case, you will be notified and given the option of printing without edits, performing the edits or somewhere in between. Most customer files require only basic adjustments/editing and it's included in the price.
Why shouldn't I just do it myself?
Interpolation tools such as Genuine Fractals and S-Spline Pro (commonly regarded as the two best) are relatively expensive ($160 and up). Genuine Fractals is a plug-in requiring additional photo editing software to run. Unless you produce large prints on a regular basis, the expense can be hard to justify. We perform interpolation on image files as appropriate using the method you prefer. Using our service also allows users a chance to see the results of interpolation on their own images before spending a lot of money.
Image editing is performed on a monitor that is color calibrated with the print service. What we see is what you'll get.
We are proficient in making the adjustments needed to achieve the best results (including noise reduction and sharpening). Photo editing software can have a steep learning curve and we've been working with the tools for a couple of years.
We save you time. If you're familiar with photo editing, you know it can take a lot of time to prepare an image for print (especially large prints). We spend the time necessary to make quality enlargements. If the image is not suitable for the size ordered, we'll let you know and refund your payment or work with you to pick a different size.
Now is the time to take advantage of this service while we're offering the introductory pricing.
Take advantage of our experience and techniques used to print our photos for our clients.
What services are available?
We interpolate, edit and print enlargements of your digital photos.
Here's how it works:
- You send us your image file(s) on CD or email if under 5mb
- We interpolate the file(s) to the size you specify, edit the image and send it for printing.
Please note: while results are usually quite good, the degree to which an image can be scaled varies according to the quality and size of the original.
Would you like to see other services available? If so, please let us know.
Sounds good to me, what do I do now?
Please visit our new web site for digital photo enlargements at http://www.ephotoz.com
1. Please select the services using the buttons below and pay with any major credit card. If you have multiple images, simply adjust the quantity upon checkout.
You may also pay with Visa or Mastercard over the phone @ 913.707.7515.
Note: Please only submit files for enlargement if you are the copyright owner of the images. Please do not take pictures from the internet and ask us to blow them up for you. Submitting payment for our service indicates your agreement that you are the copyright owner for the photo to be enlarged. Thank you.
Default finish is matte. Unless otherwise specified, photos will be printed on matte paper.
** Please note **
** Enlargement services are currently on hold **
| | |
| --- | --- |
| | |
| | |
| | |
| | |
| | |
| | |
| | |
| | |
| | Note: luster finish not available on 24x36 or 30x40. |
2. Please email image files to:

or mail CDs with image files to:
address removed: service is on hold.
3. Please include the following along with the file.
the PayPal transaction # and/or email address affiliated with your paypal account (allows us to match up the order with the file)

Any special instructions or requests

Contact phone # and email
Please include a contact phone # and email (so that we can ask questions if needed or contact you if the final image is not suitable for printing (we'll give you're money back). Your contact information will not be provided to anyone.
Site material copyright 2003 K. Venator except where otherwise noted.
All rights reserved.
AmericasWonderlands.comTM, America's WonderlandsTM