Mt Rainier, Washington

Clicking through the link below when you shop Amazon also helps...

Pacific Northwest

Scenes from Oregon and Washington
The America's Wonderlands Pacific Northwest Photo Gallery features 42 pictures of lighthouses, mountains, beaches, sunsets, waterfalls and other scenes from Oregon and Washington. The screen saver includes 8 Oregon lighthouse pictures, 12 waterfall photos, plus pictures of Mt Rainier, Mt Olympus, Olympic National Park and a couple of beautiful sunsets along the Oregon coast. All of these pictures are included in the Pacific Northwest Screensaver
. Lighthouse pictures include (Cape Arago, Cape Meares, Heceta Head, Yaquina Bay, Yaquina Head, Coquille River, Umpqua River and Cape Blanco). Waterfall pictures include Multnoma Falls, Iron Creek, Big Creek, Marymere, North Falls, Oneonta Gorge, Toketee, Sol Duc, Ponytail and more.
Pacific Northwest Photo Gallery
Please Contact Us to inquire about ordering prints or call 913.707.7515.
10x12 prints matted to 12x16 are $49
10x15 prints matted to 16x20 are $59
Framed photos are $69 and $99 respectively.
Larger sizes available.
** Shipping is $9 **
Tell me more about these pictures. Sample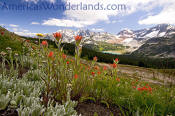 The screensaver includes the pictures below at roughly two to three times the resolution.
Click thumbnail images below to see larger pictures. Click the Back button on your browser to return.
Note: prints are signed K. Venator in the bottom right corner. AmericasWonderlands.com does not appear on the printed photographs.
1. Cape Arago Lighthouse, Oregon

2. Olympic National Park

3. Big Creek Falls,

Gifford Pinchot National Forest, Washington

4. Big Creek Falls,

Gifford Pinchot National Forest, Washington

5. Cape Arago Lighthouse, Oregon

6. Cape Blanco Lighthouse, Oregon

7. Cape Meares Lighthouse, Oregon

8. Cape Meares Lighthouse, Oregon

9. Coquille River Lighthouse, Oregon

10. Olympic National Park

Washington

11. Olympic National Park

Washington

12. Heart Lake

Olympic National Park

13. Heceta Head Lighthouse, OR

14. Heceta Head Lighthouse, OR

15. Iron Creek Falls

Gifford Pinchot National Forest

Washington

16. Lewis River,

Gifford Pinchot National Forest

Washington

17. Marymere Falls

Olympic National Park

18. Marymere Falls

Olympic National Park

19. Mt Olympus

Olympic National Park

20. Multnomah Falls,

Columbia River Gorge, OR

21. North Falls,

Silver Falls State Park

Oregon

22. Beach

Olympic National Park

23. Water Crossing

Olympic National Park

24. Oneonta Gorge

Columbia River Gorge

Oregon

25. Oregon Coast

26. Oregon Coast

27. Oregon Coast

28. Ponytail Falls, OR

Columbia River Gorge

29. Mt Rainier

Washington

30. Mt Rainier, Washington

31. Ruby Beach

Olympic National Park

32. Ruby Beach

Olympic National Park

33. Salmon Cascades

Olympic National Park

34. Sol Duc Falls

Olympic National Park

Washington

35. Sunset Bay, Oregon

36. Toketee Falls

Oregon

37. Yaquina Bay Lighthouse

Oregon

38. Yaquina Bay Lighthouse

Oregon

39. Yaquina Head Lighthouse

Oregon

40. Umpqua River Lighthouse

Oregon

41. Umpqua River Lighthouse

Oregon

42. Weisendanger Falls

Columbia River Gorge

Washington
America's Wonderlands
All images copyright 2002 K. Venator
All rights reserved