Welcome to the interesting world of slot canyons. Slot canyons, sculptured by water over millions of years, offer an adventure experience that is amazing and vastly different from anything you've probably seen before. While not unique to Utah & Arizona, slot canyons develop in this area as a result of the slickrock landscape and inevitable rainfall.
This is the book I used to find slot canyon hikes.

In contrast to the Grand Canyon which is a mile deep and ten miles across, a slot canyon can have walls that are only a few feet (or even inches) apart and be so enclosed that sunlight rarely reaches the bottom. Slot canyons offer an intimate experience on a small scale versus an overwhelming experience on a massive scale.
The granddaddy of all slot canyons is The Narrows in Zion National Park. Walls rise nearly 2000 feet and are only 30 feet apart at the extremes. Other slot canyons have a different appeal and are unique in their own way. For more information about Narrows, please visit the Exploring Zion National Park page. Following is a representative list of slot canyons.
Follow the link for a list of suggested books. See an overview map of the Escalante/Page/Lake Powell vicinity.
Slot Canyon Hikes

click the name to see more info

Name

Location
Short Description

Zion National Park, southwest Utah

Premier slot canyon adventure.

Escalante National Monument - access via Hole in the Rock Road, south central Utah

Three slot canyons in a day hike.

Navajo Nation, near Page, north central Arizona

Drive up and walk-in. Most photogenic.

Escalante National Monument - Paria River region - near Page, north central AZ

Longest slot canyon in the world. Overnight trip or day hike via alternate access.

Canyonlands - Needles Dist, southeast Utah

Hike back into The Needles

Zion National Park, southwest Utah

Popular hike, permit required

Zion National Park, southwest Utah

Obstacle course

Escalante National Monument, access via Hole in the Rock Road, south central Utah

2-3 day backcountry trip. Can be shortened via alternate access to day or less.

Escalante Slots
Escalante National Monument, south central Utah
Peak-A-Boo, Spooky and Brimstone are among the many slot canyons of Escalante.

Arches National Park, near Moab, southeast Utah

Fiery Furnace area of Arches. Technical, guided trip.
The Narrows & Orderville Canyon
Zion National Park, Utah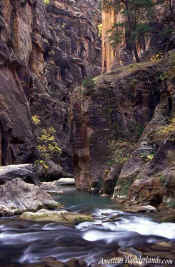 Follow this link for more information about The Narrows and Orderville Canyon. Be sure to visit the Canyon Country Gallery to see pictures.
Peak-A-Boo, Spooky and Brimstone Gulches
Escalante National Monument, Utah
Peak-A-Boo - Entrance & Double Arch
Peak-A-Boo, Spooky and Brimstone Gulches are 3 distinct slot canyons accessible in a single day hike. Peak-A-Boo is fairly short and shallow slot that gets plenty of sunlight. It's got a smooth texture and light color (picture). Peak-A-Boo is the first of the three slots. Continue far enough into Peak-A-Boo and you'll eventually climb out the top at the end. Spooky is completely different. It's a narrow affair with a rough texture and dark color. It gets so narrow in places that you have to suck in your stomach (ok, maybe it's just me) and contort your body to get through some of the water contours. It eventually becomes so narrow it's impassable. Further down the trail, you eventually arrive at Brimstone Gulch. I would wager that a good percentage of people don't go as far as Brimstone Gulch. Most probably visit Peak-A-Boo and Spooky and then leave. It's a fairly long walk to include a round trip to Brimstone (add approx. 2.5 miles). There's also a boulder obstacle not too far from Spooky. If you have the time and energy, it's worth the extra effort. Brimstone is narrow, deep and dark.... so dark in places that you can't see and have to feel your way along. Bring a flashlight if you plan to hike Brimstone. Use appropriate caution in all your hiking; but especially here. There's not much traffic back in this area. One guy got stuck in Brimstone and was found (alive) after about a week. He'd apparently tried to navigate one of the narrower spaces and got himself stuck between the walls. He was lucky enough to be found by some unwitting hikers.
Access is via the Hole in the Rock Road along highway 12 between Escalante and Boulder, Utah. The Hole in the Rock Road is a grated dirt road for most of its length. Take a lot of water if you plan to take this trip. If your car breaks down, it could be a long while before anyone shows up. Use caution when taking the side roads to the trailheads, they can be rough or even impassable. A high clearance vehicle would have made the trip more pleasant; but isn't required to access the Peak-A-Boo trailhead (when the road is dry). Check locally to determine road conditions to your destination. There are a couple of ranger stations in the area (Boulder and Escalante) that can provide more information.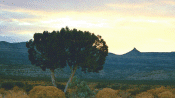 To reach the trailhead: drive south on Hole in the Rock Road from highway 12. You'll pass Cat Well and Early Weed Bench around mile 24. Continue approx 2.5 miles. You should see a lone juniper tree on the right with 2 trunks. A short distance after the tree, turn left and continue about 1.5 miles to the trailhead1.
Get a good topographic map if you plan to visit this area. Carry a lot of water and keep a lot of water in your vehicle. An online topographic map is available here. Be advised that the online map isn't detailed enough for hiking; but offers a more detailed view of the area.
I camped overnight at the Calf Creek campground and hiked to the Lower Calf Creek Falls on a different day. Note: there's no water available in the campground in late October, early November as they shut it off for the winter. Fill up extra water containers in Escalante or Boulder.
A four wheel drive vehicle opens up more options to explore Escalante. If you plan to spend more than a couple of days in the area, you probably wish you had one.
Antelope Canyon - Upper & Lower
Navajo Nation, Arizona (near Page)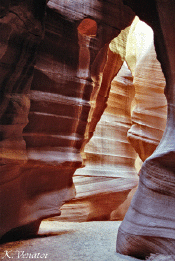 Antelope Canyon is the most photogenic of all the slot canyons and is a popular destination with photographers, especially in the summer when the lighting is best. (photo 1) (photo 2)
Antelope Canyon is a couple of miles east of Page, Arizona along highway 98. You should see a parking area on the right side of the highway for upper Antelope Canyon. To reach Lower Antelope Canyon (aka Corkscrew Canyon or The Corkscrew), continue a few hundred yards east on highway 98 and turn left onto a paved road that takes you to a second parking area. If you drive east past the power plant, you've gone too far.
Following is the list of ways you can reach Antelope Canyon:
- hire a guide to take you to Upper Antelope Canyon
- drive yourself to the Upper Antelope Canyon parking area and pay at the gate
- drive yourself to Lower Antelope Canyon (no guide service)
If you hired a guide to take you to Upper Antelope Canyon and you want to visit Lower Antelope Canyon, you'll have to drive yourself back to the Lower Antelope Canyon parking area after the guide takes you back to your car in town. If you drive yourself to Upper Antelope Canyon, you can simply drive across the street. It's only a couple of miles either way, just something to consider.
Keep your receipts from your visit to Upper Antelope Canyon as it proves that you've already paid the Navajo Reservation entry fee. You'll probably still have to pay the Lower Antelope Canyon entry fee.
Driving yourself to Upper Antelope Canyon may be cheaper; but may also affect how long you can stay. There will be someone at the ticket booth who will shuttle you to & from the parking area & entrance. Hiring a guide may allow you to stay in the canyon longer. I hired a guide because I thought they were required. The guide will give you a brief tour and then leave you on your own. My allowed time was from 10:00-1:30 for $44 in 2001. The upper part is not very long and can be exhaustively explored in a short time; however, if you are looking to get some pictures, it will take a while. Good photo spots are often occupied so you might have to wait.
Visitors to Antelope Canyon should expect a crowd. This is not an adventure experience. It's a drive-up and walk in experience. You'll have to navigate around a number of photographers with heavy equipment. Each will expect you to wait until their exposure is complete before passing. In spite of these inconveniences, it is still worth the trip especially if you are interested in photography. Take a free standing tripod and a cable release (self timer is an option but can be irritating to others if it beeps). Low film speeds may also require the use of an external light meter if your camera doesn't support shutter speeds over 2 seconds. For best results, don't use a flash.
Upper Antelope Canyon receives the majority of visitors and is the better destination for photographers. Lower Antelope Canyon is more intriguing, longer, deeper and more of an adventure.
It was in the lower part where 11 people died on August 12, 1997 as the result of a flash flood. Nine of the eleven were visitors from European countries (7 French, 1 Great Britain, 1 Sweden), 2 were Americans.1
Paria Canyon - Vermillion Cliffs Wilderness
(south border of Escalante National Monument)
near Page, Arizona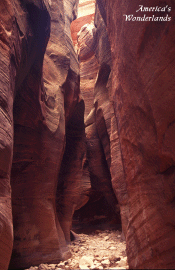 Buckskin Gulch is perhaps the longest slot canyon in the world. It's 100 to 200 feet deep and 30 to 50 feet wide for more than 12 miles. (photo)
From Page, Arizona travel west on highway 89 until you reach the Paria ranger station. You can stop here to obtain more information about the area including a map. To reach the Wire Pass trailhead, continue west on 89 to an unmarked, gravel road on the left (south) at 0.8 miles past mile marker 25. You'll see the road just after highway 89 crests the top of a hill. The unmarked road is known as the House Rock Valley Road. It's about 34 miles from Page to the turnoff. Don't be fooled by the weedy, overgrown vehicle tracks nearer the top of the hill, go a little further. As you crest the hill, you'll see highway 89 curve off to the right ahead of you. House Rock Valley Road heads south of 89 just as you would begin rounding the turn.
The House Rock Valley Road can be a bumpy ride in a passenger vehicle and may require a 4-wheel drive when wet or after storm run-off has washed out sections of the road. It's advisable to check road conditions at the Paria ranger station and confirm your understanding of the directions.
After turning south from 89, stay left at mile 2.5 where the right fork goes to Five Mile Mountain. At mile 4.4 you'll pass through a wash. Follow the road passed the turnoff to the Buckskin Gulch trailhead about a quarter mile after the wash. You'll eventually reach the Wire Pass trailhead 8.4 miles south of 89. The Wire Pass trailhead is the shortest and most popular route to reach Buckskin Gulch. Wire Pass is also an interesting portion of the hike that you'd miss taking other trailheads.
It's about a 3.4 mile round trip from the trailhead through Wire Pass to Buckskin Gulch. It's up to you how much distance you'd like to add hiking Buckskin Gulch from here. Buckskin Gulch is 12.5 miles long eventually reaching the Paria river.
The hike through Wire Pass requires navigation of two obstacles. In October of 2001, a ladder was in place to assist hikers over these challenges. If you need the ladder to get down the 2nd obstacle, you should keep in mind that anyone going the opposite direction can move it to help them up the first one. Thus, it might not be there when you get back. As a result, you should be confident that you can climb the 2nd obstacle without the ladder.
Log jams occasionally appear overhead indicating that water can get deep. Check the weather before you go and don't hike this area if there is rain in the forecast.
Online topographic map (here).
Canyonlands National Park - Needles District, Utah
The Joint Trail is an interesting hike through varied types of terrain. You can access this trail by driving to the Chesler Park trailhead (4-wheel drive, high clearance) or hiking from the Elephant Hill trailhead. You'll want to stop at the ranger station and pick up a map of the area because there's a matrix of trails through the area from which to pick and choose. The route I chose from the Elephant Hill trailhead was about 10.1 miles. Driving to Chesler Park shortens the hike to a mile or two. There's overnight camping available in the backcountry with a permit; but you have to carry all your water as there are not any reliable sources in the area. Druid Arch is in the general area but will require adding approximately 4 miles to the trip. If you're up for a longer hike, it might be worth it.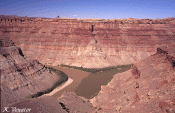 Confluence Overlook
Another Needles hike that you might enjoy is to the Confluence Overlook. There's not a lot to see on this hike until the overlook itself; but it's impressive. This is where the Green River and Colorado River meet. The three pieces of the pie represent the different districts of Canyonlands. Across the river to the left you can see The Maze, to the right is Island in the Sky (you're in The Needles). It's an 11 mile hike (round trip) from the Big Spring Canyon Overlook trailhead at the end of the road. Take along a map of the area and plenty of water. There is little shade on this hike.
A few quick notes about visiting Canyonlands - Needles District (photo, photo):
* make sure you're well stocked prior to arrival. If you don't make it to the area's only convenience store before they close, it's a minimum of 100 mile round trip to get supplies (i.e. ice).
* don't plan to listen to the radio (no stations here)
* camp sites are available on a first-come, first-served basis. Call the ranger station to see if there are sufficient openings to improve your chances of getting a site. Arrive early. If the campground is full, there are some public campgrounds outside the park along the road.
* The three areas of Canyonlands are Island in the Sky, The Needles and The Maze. Island in the Sky is just outside Moab, UT up the road from Arches National Park. It's a really neat place to spend a day; but probably not too much longer. The Maze is the most remote area in the lower 48 states. Only the most prepared and experienced desert hikers should plan trips in The Maze. The Needles offers a remote feeling and enough hiking for 2-3 days.
* a four wheel drive vehicle opens up a lot of options to explore that are not available otherwise. For example, I don't have a four wheel drive so had to hike 11 miles to the Confluence Overlook. You can nearly drive right to it in a four wheel drive. A mountain bike can also be used on the 4-wheel drive roads (not allowed on hiking trails). ATV's not allowed.
More information about Canyonlands can be obtained on the National Park Service web site.
Zion National Park, Utah
See the Exploring Zion National Park page for more information about hiking The Subway.
Zion National Park, Utah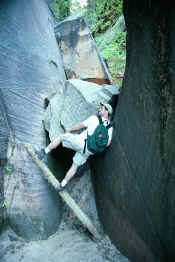 See the Exploring Zion National Park page for more information about hiking Hidden Canyon.
Escalante National Monument
& Glen Canyon National Recreation Area, Utah
Coyote Gulch is one of the most popular overnight trips in Escalante. It can take anywhere from 2-4 days depending on your speed and distance to your turnaround point. Alternate trailheads for this hike are accessed via the Hole in the Rock road, between Escalante and Boulder, UT south of highway 12.
Hurricane Wash is the most popular starting point. From here it's a 27 mile out-and-back multi-day hike.
The second most popular starting point is along Forty Mile Ridge. At this trailhead, Hikers access Coyote Gulch via The Crack in the Wall. This hike can be done in a day and is about 5.2 miles round trip (add distance to hike up the Gulch).
Directions to Hurricane Wash: drive 33.8 miles south of highway 12 on Hole in the Rock Road. The trailhead is just past Hurricane Wash (watch for the sign) on the right.
Directions to alternative starting point: It's a bumpy ride and may be impassable. A 4WD is recommended and is required when wet. Drive south on Hole in the Rock Road past Hurricane Wash another 2.2 miles. Turn left at the signed turn to Forty Mile Ridge. After 5.1 miles, stay left at the junction. The end of road and the trailhead is about 1.8 miles from the turn. Getting to the trailhead requires driving on bumpy dirt roads with stretches of deep sand. Maintain speed through deep sand driving as fast as you feel comfortable. Check locally to verify road conditions.
An online topographic map is available here. Be advised that the online map isn't detailed enough for hiking; but offers a more detailed view of the area. Zoom in and out as necessary to find your particular area of interest.
* maintain speed when driving through deep sand. Don't stop.
* Make sure you have a good, topographic map of the area.
* Be prepared for this trip. By the time you reach the trailhead, you're 43 miles from highway 12 in the middle of nowhere.
* Take a lot of water
Escalante National Monument, Utah
Why a section called the Escalante Slots? Because their's a bunch of slot canyons in Escalante to choose from. A few are mentioned in their own sections; mostly because they're more well known. Keep in mind that there's a number of others; many of which are just a short distance from each other along Hole in the Rock road. Ranger stations can provide more information and are located in (or just outside of) Escalante, Boulder and Kanab. The Paria ranger station can also provide information (see Buckskin Gulch directions above).
Most of the features identified with Escalante are accessed from the north via highway 12. These include many of the Escalante slot canyons as well as Lower Calf Creek Falls. You can also reach different areas of Escalante from the south via highway 89 closer to Page, Arizona.
For example, Buckskin Gulch (see above) is located on the south side. The Wire Pass trailhead is located within the boundary of Escalante National Monument south of highway 89. Buckskin Gulch begins in Escalante and continues through the Paria Canyon - Vermillion Cliffs Wilderness Area.
Other areas can only be reached by traveling from the north (e.g. Peak-A-Boo, Coyote Gulch, etc.). Consider this when planning your trip because it's a long drive from one side to the other. If you're planning to make the drive around, consider stops in Zion, Bryce, Capital Reef, Cedar Breaks and the Grand Canyon as they're all in the vicinity.
An online topographic map of the Hole in the Rock Road area is available here. Be advised that the online map isn't detailed enough for hiking; but offers a more detailed view of the area. Zoom in and out to find specific areas of interest within Escalante.
Arches National Park, Utah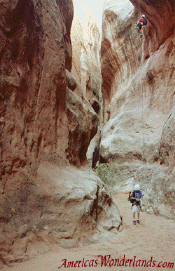 Lamatium Canyon is an unmapped, unmarked area within the Fiery Furnace of Arches National Park. The only way to reach this area is to find it on your own or have a guide take you. Special permits are also required from the National Park Service to enter the Fiery Furnace (if you hire a guide, they may take care of this for you). You'll also have to pay the National Park entry fee if you haven't already. Be especially careful not to disturb the area, walk only on rock and don't leave footprints in the cryptobiotic soil (you'll hear more about this when you get into the area). This hike is technical (guide provides equipment) and involves two rappels. The hike takes most of the day and is very enjoyable. The guide was great and I felt safe the whole time. Groups are small enough to get around quickly and lunch was provided. Contact Desert Highlights to make arrangements for this trip. Other guide companies might also offer this (or similar trip); but I'd go back with them. The trip in Oct 2001 was $120 per person.
** Hikers should pay close attention to the weather. **
** Slot canyons can flood without warning during storms. **
1Canyon Hiking Guide to the Colorado Plateau, 5th Edition. Michael R. Kelsey.

(I used this book in combination with maps and other sources to pick hikes and find my way around. It includes a substantial list of canyon hikes with directions, descriptions, maps, etc. and is the most comprehensive book I've found.)

Click the picture to buy from Amazon.com.

Hiking and Exploring the Paria River, 3rd Edition. Michael R. Kelsey. Kelsey Publishing 1998. This book concentrates more on areas that make up the Paria River region around Escalante, UT and Page, AZ. I used this book mostly for information on hiking Buckskin Gulch and choosing other hikes in the area.

Click the picture to buy from Amazon.com.

Hiking Grand Staircase - Escalante & the Glen Canyon Region. Ron Adkison. Falcon Publishing 1998.

Good alternate reference for choosing hikes based on descriptions and double-checking directions.

Click the picture to buy from Amazon.com.

Exploring Canyonlands & Arches National Parks. Bill Schneider. Falcon Publishing 1997.

Good for planning adventures in these two parks. Includes hiking trails and 4wd roads.

Click the picture to buy from Amazon.com.

Canyoneering 3: Loop Hikes in Utah's Escalante by Steve Allen is specific to Escalante. I haven't read this book but it's getting some good word of mouth in reviews as well as other web sites which compare it directly to Kelsey's books above.

Click the picture to buy from Amazon.com.


Desert Solitaire by Edward Abbey was originally published in 1968. Abbey served as a park ranger in Arches National Park and writes about his experiences throughout the desert southwest. This work is very popular in the region and nearly everyone knows of Abbey. This is not a travel guide; but simply one man's expression of his love for the country.
Topographic maps for some areas can be purchased from Trails Illustrated.
You can also find topographic maps online at topozone.com (zoom in and out to find particular areas of interest within Escalante).
Thank you for visiting.
Enjoy your trip!
Thank you for visiting!
Did you find this information helpful? Do you have corrections?
If so, please send feedback to the author.
Disclaimer: information provided in good faith with no warranty or obligation attached. Be prepared for your adventures.
Your safety is your responsibility. Explore with respect.
America's Wonderlands
Copyright 2002 K. Venator