Purple Columbine

Heceta Head, Oregon

Updates
Click here to sign up to receive updates by email

(click thumbnail images to see larger pictures)

Sept 28, 2006

Hi All -

A few admin items to start...

- please replace any americaswonderlands.com email address you have for me with this new one:

My new mailing address:
<contact us for the address>
Lastly, please note that AmericasWonderlands.com was down from Sunday afternoon of last week through just a few days ago. If you tried to send any email during that time and haven't received a reply, please resend. The site is now up and running with a new hosting company so all should be ok for now.

On to the good stuff...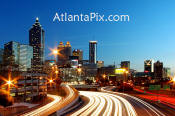 - WSB TV channel 2 in Atlanta rolled out their newly redesigned news desk at noon today which features one of my photos (see attached AtlantaPix-1 and wsb news set). My photo is on the sides. The photo could be on tv every day in Atlanta with a possible viewing audience in the millions. Very cool. It looks like their using mirror images on either side. I think they might have made it blurry to keep viewers focused on the center but not sure (it's cool anyway).

- The city of Kansas City Missouri, through a partnering agency, has contacted me about licensing a number of different photos. It's not a done deal but keep an eye out as this could be some really good exposure.

- I'll be participating in the Overland Park Fall for the Arts Festival this Saturday, 9/30 from 9 to 5. It's in Santa Fe Commons Park (81st and Santa Fe Drive). Feel free to drop by if in the area.

- The digital photo enlargement service continues to do well and I'm having my 3rd and 4th best months ever in August and September (and working full time so very busy).

- ephotoz.com is now offering photos printed on canvas - rolled or wrapped around a wood frame up to 30x40.

- Culvers Frozen Custard at 135th and Antioch (in front of Sam's Club) has a number of photos on display including many of mine. The concrete's (frozen custard treats) and fried chicken are really good... you should stop by and try it.

- AmericasWonderlands.com is now hosted with 7 times the disk space and ample bandwidth to handle additional growth. You may recall from the last note that the site had received its 1 millionth UNIQUE visitor earlier this year.

I've got some other ideas for photos so may have more to share before long. My most recent foray ended with no really good photos and hopelessly stained clothes (had great conditions so was trying to get shots of the skyline from the river). Darn, I liked that shirt. ;-)

Other photos attached:

* I spent the recent trip down the Maine coast traveling from lighthouse to lighthouse. The red striped one was at the eastern-most point in the US.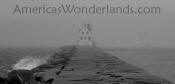 * The black and white shot with the lighthouse in the distance was at the end of a quarter mile breakwater and it was raining pretty hard. I was about half way there when the ship went by. I had the camera inside a gallon zip lock with the lens pointing out the opening.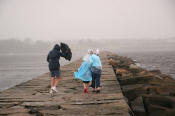 * I thought the family shot was funny. It's cold and miserable and these guys are bound and determined to see this one last lighthouse (ok, ok... so was I). Notice the older kid bolting way out in front. ;-)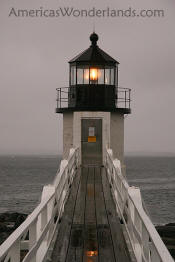 * The white lighthouse at the end of the wooden walkway was also in Maine (more lighthouses in Maine than any other state although you can only drive up to a handful).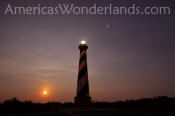 * The last shot was of the Cape Hatteras lighthouse in North Carolina. That's actually the moon on the left with stars in the sky above.

Gotta run... It's getting late. Take care everyone and I hope to hear from you all soon.

-Kevin
PS - if you don't want to receive notes like this in the future, please let me know and I'll take you off the list.

AmericasWonderlands.com
Copyright 2006 K. Venator