Purple Columbine

Heceta Head, Oregon

Updates
Click here to sign up to receive updates by email
(click thumbnail images to see larger pictures)
Creepy Creatures & Shooting Stars
May 23, 2007
A night to remember... (no, it's not the Titanic story). ;-)

It was a beautiful evening in Supai, Arizona. The temperature was probably about 75-80 degrees and the sun was getting ready to set over the canyon. My friend Craig and I had just explored the area around Navajo Falls and we decided to include one more hike on the way back to camp. The hike began with a climb up through a cleft in the rock to access a trail that meandered along the canyon rim. The views of Havasu Falls and Mooney Falls from up high on the canyon wall are spectacular.

We hiked for a short while and stopped to get a few photos of Havasu Falls (see attached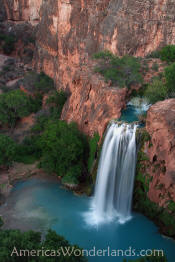 photo). We set a turnaround time so that we could get back down before dark and continued hiking toward Mooney Falls. Our turnaround time arrived and we decided to keep going. It was just a little farther and besides; we had a back up plan. The trail meanders around a few side canyons so the hike is longer than the trail below that connects the two falls. We got to a point just past Mooney where we could see the falls and take a few photos. It was beautiful. The canyon wall is probably 500 ft straight down from here giving an aerial view of the canyon and the falls. We took a few quick pictures and headed back.

The return trip started out fine but it got dark fast. Neither of us had lights and the small sliver of a moon stayed behind one of the canyon walls. We tried to find our way down but it was too dark for the precarious climb so we decided to skip it and hike all the way back to the village then return to camp via the main trail (our back up plan). The trail to camp from the village is well traveled so we thought we wouldn't have too much trouble. However, about a quarter mile into the trip toward the village, the trail faded fast and was difficult to follow. We tried a few different times but it was too dark and I was getting painfully tired of pulling cactus spines from my legs.

"Do you care if we just spend the night here?" We're done. We found a relatively flat spot and quit for the night.

The stars were beautiful. There were at least a couple of brilliant shooting stars that crossed half the sky. "Did you see that?"

We spent time trying to identify the different constellations. The Big Dipper was about the only one either of us recognized as neither of us had taken any Astrology classes in college. ;-)

The temperature diurnal in the desert is about 30 degrees (in KS it's about 15-20). If it's 75-80 during the day, it'll be 45-50 at night. I had a jacket but was wearing shorts. Both of us got cold. I had a trash bag lining my backpack so put my legs in it. Craig put his wet suit back on. We used the camera flash a few times to help us see what we were doing. Between shivering, moving rocks away from my rear and trying to decided if those light, dry lumps were cactus buds or horse manure, it was a long night. ;-)

The sun came up and we made the climb down. It was a beautiful morning and I stopped to take some more pictures on the way back to camp. We made coffee, packed up our things and headed to the village for breakfast. Our visit to Supai wrapped up later that day with the hike out. It was a great trip!!

Supai was the last major stop on my four week trip through the southwest.

I left on April 15 and spent the first 4 days skiing in Vail (see attached pic).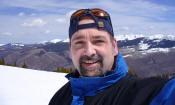 The next stop was Zion & 8 days of great company, camping and hiking. See attached Narrows photo. The purple flower (Few Flowered Shooting Star - see photo) was growing on the side of a canyon wall under a waterfall.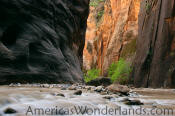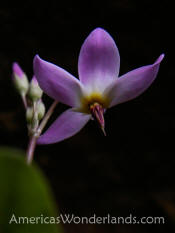 After Zion, and a couple of side trips to Bryce Canyon & Antelope Canyon (see pics), I proceeded to Escalante, UT.

Escalante is more of a wilderness canyon destination and the region where young artist and poet Everett Ruess was said to have disappeared in 1934 at the age of 20.

I arrived at a campground in Escalante and was trying to decide if I wanted to camp or stay in a local motel when a loud thunderclap made the decision easy. The weather forecast for the next day (when I was going to start hiking) was not good either but was supposed to get better later in the week. If I could just handle hiking in the rain on the first day, it would be good the next couple of days. I needed to be in Vegas to pick up a friend during the middle of the week so couldn't put off starting too long. Highs in the 50's, 50% chance of thunderstorms and a low of 27... Argh!! Cold and wet!! ;-( I really wanted to do a 3 day backpack through Coyote Gulch. My research had indicated that this was one of the premier hikes in the area. I stopped by the ranger station to ask about the hike and the weather and the guy was like "no big deal, are you gonna do the hike or not... are you a woos?!?" He didn't actually say that but went on to encourage me to go ahead and start. Turns out the canyon is much lower elevation than the town of Escalante so it was warmer and didn't rain at all in spite of the fact that it stormed like crazy up high.

I drove down the remote Hole-in-the-rock road for about 30 miles and parked at a trail head, got ready and started the hike. The going was slower than I expected and I was averaging only about 1.5 mph. I made it about 6-7 miles the first day before it started to get dark. I found this great campsite under an overhang in the canyon wall that looked like it could have been the site of a former cliff dwelling. Perfect. I filled up water bottles and prepared my dehydrated meal for dinner (those are good!). There weren't any bugs & the overhang would protect from rain so I decided not to set up the tent. The rest of the night was uneventful.

I proceeded down river a ways the next day with my pack and all my stuff for about 2 more miles. Jacob Hamblin arch is huge with the river bending around it. Very nice. I hiked about a mile past this arch, found another great ledge/camp overlooking the river and dropped off most of my stuff. I continued hiking about another 5-6 miles down the canyon to the Escalante river passing a couple of waterfalls, Cliff Arch & Coyote Bridge along the way. It was gorgeous. Just upstream from the convergence of the canyon and the Escalante river you can see Steven's Arch (huge). It was cool. The return trip was faster as I had already figured out how to descend around the falls so made pretty good time. I was very tired. It was about a 13 mile day. I decided to set up the tent... I had carried the darn thing so might as well.

I made dinner and cleaned up and was hanging my food as it was getting dark. I put on my headlamp and just happed to glance over to the right. Two glowing eyes were checking me out. I grabbed one of my hiking poles and we had a stare down. I couldn't see anything other than the yellow eyes. I turned to the left and there were two more. It's hard to tell how big an animal is simply by the spacing of the eyes so I was still on high alert. I finished putting things away and slowly approached. I really wanted to know what it was before trying to go to sleep. It went up into the tree but was still looking at me. The other one had disappeared (where?). I edged closer until I could make out the animal with the light of my headlamp.

What the heck is that?!?
http://itech.pjc.edu/sctag/cacomistle/Cacomistle.htm

I ended up seeing about four of these including one across the river. It was ALWAYS there every time I shined the light in its direction... "just waiting for me to go to sleep aren't you!?? They're stalking me!!"

They're small... I think I could take 'em. ;-)

Glad I set up the tent.

I had purchased a Firefly at the beginning of the trip. It's a lid for a water battle with an LED light built-in that turns the water bottle into a lantern. I turned it on and hung it from my tripod out in front of the tent and left it on all night. The Cacomistles (aka Ringtail Cats) didn't bother me and I actually slept pretty well.

The hike out was pretty uneventful except for seeing a huge yellow and brown snake which I wasn't able to identify. It was a very cool hike.

Photos attached: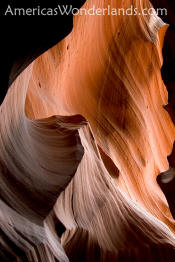 - 2 photos of Antelope Canyon, Navajo Nation Arizona
- The Narrows, Zion Nat'l Park, UT
- Few Flowered Shooting Star flower, Zion, UT
- Billboards - a couple of billboards went up featuring my photos. There are several more planned as follows:
I-435 north of I-70 facing south for May and June.
SW Trafficway and 23^rd street facing North for July and August
71 Hwy and 140^th facing south for June and July
I-35 and Metcalf I-635 facing South for August
- Great Sand Dunes - Colorado
- Me skiing in Vail
- Me and my new shades (lost the old ones in Escalante) - taking the "Scenic Route".
- Two more shots on the "Scenic Route". It actually got scenic after a while.
- Havasu Falls from the trail up high before it got dark


Other recent news:
* worked on an IT contract with H&R Block thru late Februrary helping them launch a new loan product that was wildly successful
* photo business is still going well with a record setting holiday season & lots of new licensing arrangements including the city of KC
* tested 3 different solutions for my latest web business idea and selected one. I'll continue working on gigastock.com as time permits between IT gigs. This site will allow for searching, purchase and instant download of digital files to support automated licensing.
* lastly, I'm available (and looking) for work again so keep me in mind for opportunities in the IT arena (project mgmt, business analysis).
* I am also planning to get out and take some new pictures of the immediate area (KC, KS, MO) so watch for those in the near future.

Hope you all are doing well.

Drop me a note and let me know what's new with you.

Where can a guy get some good green chile around here? ;-)

-Kevin
AmericasWonderlands.com
Copyright 2007 K. Venator