The AmericasWonderlands.com St John Photo Gallery features 32 pictures from various areas of the tropical island. The screensaver includes all 32 photographs and is available for download by following the Screensaver Downloads link above.

St John, Off the Beaten Track
(click the image to see more)
Enlargements of the photographs are available for order.
10x12 prints matted to 12x16 are $39 (Samples)
10x15 prints matted to 16x20 are $49 (Samples)
The same photos with frames are $69 and $89 respectively.
Please contact us with comments, questions or to inquire about other sizes.
If you like these, check out the Hawaii pictures
** There is currently no charge for shipping **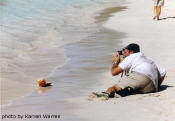 The photographs were all captured using 100 speed slide film (Fuji and Kodak) resulting in superb image quality. To find out more about the photographer and techniques, please follow the link below. Photo mats are white and can be carefully removed if you would like to choose your own mat. Black aluminum frames can be added to your order by following this link (show me frames).
Tell me more about these pictures Photography Tips
Please note: images appearing in site galleries have been considerably reduced in size and stored in compressed file formats. As a result, actual prints look much nicer than the images on the site. Your satisfaction with any photograph is guaranteed. If you are not satisfied with your purchase, you may return it within 10 days for a full refund.
The screensaver (for XP only) includes the pictures below at roughly two to three times the resolution.
Click thumbnail images below to see larger pictures. Click the Back button on your browser to return.
Note: prints are signed K. Venator in the bottom right corner. AmericasWonderlands.com does not appear on the printed photographs.
*** 3/10/2015 update: Photo print sales are being suspended. I am working full time at a "regular" job and have been enjoying family and other interests in my spare time. I will remove this message when re-engaging after a hiatus. ***
1. Annaberg Ruins

10x15 $49.00

2. Caneel Bay

8x12 $39.00

10x15 $49.00

3. Salt Pond Bay

Panoramic

~18x8.6 (Print only)

$49.00

Inquire to request a specific size.

4. Drunk Bay

8x12 $39.00

10x15 $49.00

5. Jost Van Dyke

8x12 $39.00

10x15 $49.00

6. Coral Bay

8x12 $39.00

10x15 $49.00

7. Hibiscus

8x12 $39.00

10x15 $49.00

8. Jost Van Dyke

8x12 $39.00

10x15 $49.00

9. Jost Van Dyke

8x12 $39.00

10x15 $49.00

10. Jost Van Dyke

8x12 $39.00

10x15 $49.00

11. Jost Van Dyke

8x12 $39.00

10x15 $49.00

12. Maho Bay

(under full moon)

8x12 $39.00

10x15 $49.00

13. Maho Bay

8x12 $39.00

10x15 $49.00

14. Peter Bay

8x12 $39.00

10x15 $49.00

15. Peter Bay

8x12 $39.00

10x15 $49.00

16. Peter Bay

8x12 $39.00

10x15 $49.00

17. From Rams Head

8x12 $39.00

10x15 $49.00

18. Rams Head Trail

8x12 $39.00

10x15 $49.00

19. Rams Head Trail

8x12 $39.00

10x15 $49.00

20. Colorful

8x12 $39.00

10x15 $49.00

21. Salt Pond

8x12 $39.00

10x15 $49.00

22. Sunset Sail

8x12 $39.00

10x15 $49.00

23. Soldier Crabs

8x12 $39.00

10x15 $49.00

24. Soldier Crabs

8x12 $39.00

10x15 $49.00

25. Hibiscus

8x12 $39.00

10x15 $49.00

26. Hibiscus

8x12 $39.00

10x15 $49.00

27. Cruz Bay

Panoramic

~ 18 x 6 (Print only)

$49.00

Inquire to request a specific size.

28. Trunk Bay

8x12 $39.00

10x15 $49.00

29. Trunk Bay

(under full moon)

8x12 $39.00

10x15 $49.00

30. Rams Head Trail

8x12 $39.00

10x15 $49.00

31. Waterlemon Cay

8x12 $39.00

10x15 $49.00

32. Waterlemon Cay 8x12 $39.00

10x15 $49.00

Download the St John screensaver (for XP only) with all 32 pictures
America's WonderlandsTM, AmericasWonderlands.comTM
All images copyright 2002 K. Venator
All rights reserved