| | |
| --- | --- |
| | Updates |
Click here to sign up to receive updates like this by email
or become a fan on Facebook
(click thumbnail images to see larger pictures)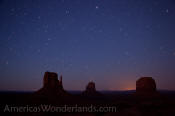 A River <used to> Run Through It...

May 21, 2009

Hi All (or Ya'at'eeh - "Hello" in Navajo),

The following update and photos recount my recent adventures in Utah, Arizona and the Navajo Nation. Enjoy.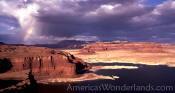 ***

As Stacy and I guided the rental "party barge" up the 8 miles of Last Chance Bay we got kind of quiet. It was both beautiful and ominous as the same time. Barren, seemingly void with soaring cliffs rising hundreds of feet straight out of the water. The water was glassy and the boat glided effortlessly through the water. The breeze created by our movement, water being pushed out of the way and the boat's engine were the only sounds. The clear cool (cold) water contrasted sharply against the barren desert. It was like something from a different planet or maybe a movie... ya, that's it... made in 1968 - the original Planet of the Apes movie's crash scene was filmed on Lake Powell with the subsequent scenes of them wandering around filmed around Lake Powell and the Page, AZ vicinity. I knew I'd seen it somewhere. ;-) http://en.wikipedia.org/wiki/Planet_of_the_Apes_(1968_film)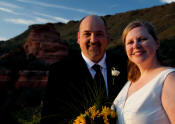 Then it got interesting but first some news: On April, 28 Annastacia (Stacy) Sarah Edwards and myself got married near sunset in a beautiful red rock setting just outside of Sedona, AZ. The weather, and everything else for that matter, was perfect! We took the attached photo on the way down from Merry Go Round Rock and should be receiving a CD of the photographer's images pretty soon (click here to see the wedding pictures by Andrew Holman).
Back to the Lake Powell story...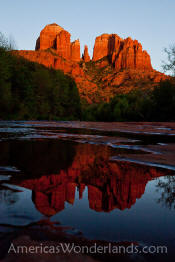 On Friday, May 1 Stacy and I headed for the boat ramp at Antelope Point, Glen Canyon National Recreation Area which includes Lake Powell and the surrounding area to begin our adventure. Carl, the rental guy, met us the night before to give us a map of the lake and go through the paperwork. "Did you hear what happened last weekend?" Carl asked. "uh, no... What happened?" was our response. "6 people were out on a rental speedboat which sank in high winds/big waves. 4 of them didn't come back.".... silence.
Related news story (click here)

Cliff notes: On April, 25 high winds and waves likely played a part in sinking a speedboat with 6 people on board. 2 survived, 3 recovered, 1 still missing as of today - they still haven't found the boat or the last missing person. The boat sank in the vicinity of Padre Bay, the biggest area of open water on the lake in water as deep as 425 feet.

Stacy and I passed by the search effort on our way up lake... sobering experience.
The lake trip was good. It was a little more stressful than expected in large part because of a couple of reasons:

* WIND: it was really windy on Saturday and we stayed put on the beach all day. No big deal but the wind created a situation where you had to hang on to your stuff when you ate, had some trouble keeping the stove lit and prevented setting up the canopy for more protection from the sun. I also hadn't yet developed confidence in the anchoring screws used to keep the boat on the beach; but they worked fine in spite of the boat catching a lot of wind.
* Scarcity of camping spots up lake: beaches (camping spots) were not as easy to find as I had anticipated. In some areas (and for long stretches of the lake), there simply aren't very many places to camp and a lot of the good spots were taken by house boats that tie up and don't move for days/weeks/ever?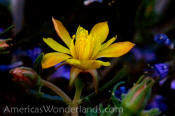 I also thought it would be easier to pull the boat up, go on a hike and move onto the next place. Not so much. Heading up into the narrow canyons was cool; but you couldn't stop the boat and hike around as the walls were vertical rock or just rocky to the point where you couldn't beach the boat. My vision of bouncing around here and there doing hikes and taking pictures then easily finding a beach on which to camp was overly optimistic.

We rented an older version of this boat: http://www.suntrackerboats.com/boat/?boat=3030

Some Lake Powell history and comments:
* Lake Powell is the 2nd largest man made lake in the US. Lake Mead, further downstream along the Colorado River is the largest.
* The lake was formed by halting of the Colorado River in 1963 by Glen Canyon dam. Crest of the dam is 3711 feet above sea level. Full pool is 3700. 2008 peak: 3633. Current 3620 with the peak in July/August. http://lakepowell.water-data.com/ (historical water levels and graphs)
* The lake is 183 miles long and has roughly 1900 miles of shoreline.
* Construction of Glen Canyon dam was one of the biggest environmental controversies/issues of it's time (and still is too many people).

Glen Canyon and the wild Colorado River that ran through it were flooded with the creation of Lake Powell. Lake Powell also fills (or partially fills) 96 tributary canyons. To some degree, the lake offers easier access to some of these canyons that would otherwise have been extremely difficult to see/enjoy. It's an absolutely, stunningly beautiful lake. "It is what it is" for those of us who never knew what was there before; but we should all be left with an appreciation that there was a great cost/loss when the dam was built ( "it's like if the Grand Canyon was filled up with water" ).
I'm thankful that the shoreline and the surrounding area, by law, is to be kept wild. You won't see lake houses here aside from the big house boats on the good beaches.
Edward Abbey in his book Desert Solitaire recounts a trip down the Colorado River through Glen Canyon prior to Lake Powell. Must have been amazing. In a later book of fiction by Abbey, The Monkey Wrench Gang, the nemesis of a group of environment activists was, of course, Glen Canyon Dam.
* I've never seen so many enormous house boats. Some with 2 jet skis on hydraulic lifts while pulling a large ski boat behind.
* Have some extra discretionary income or looking for a job in the hotel/restaurant business? This new, super-luxurious place is apparently hiring and was the talk of Page... Amangiri
* more about the dam: http://en.wikipedia.org/wiki/Glen_Canyon_Dam#cite_note-6
Back to the fun stuff...

* Friday, May 1: picked up the boat and headed up lake. Smooth sailing and the water was glassy. Went up into West Canyon which is supposed to be a fabulous hike. Couldn't find a spot to beach the boat and turned around. Found a nice camping beach in Gunsight Canyon across from Gunsight Butte.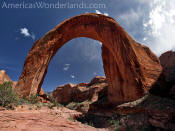 * Saturday - too windy. Stayed on the beach and hiked around a bit. Scouted out a good photo spot but never got good light at sunset. Got the attached flower shot instead and some interesting shots of bugs.
* Sunday - calmer. Headed up lake to Rainbow Bridge... very cool (see photo). Got windy in the evening so the boat ride was a little rougher. Had a bit of a hard time finding a place to camp. Finally got settled on a beach around the corner from Last Chance Bay in view of Gregory Butte.
* Monday - headed up Last Chance Bay then around into Warm Creek Bay and Wahweap Bay via the Castle Rock Cut* back to Antelope Point with a side trip into Antelope Canyon.

* Castle Rock Cut is a channel that let's boats travel between Wahweap and Warm Creek Bays. Low lake levels made it impassable until recently when a project to deepen the channel was completed. Reported re-opened on 5/10, we passed through on 5/4. http://www.azstarnet.com/allheadlines/292296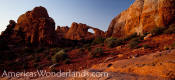 2 backpacking trips:
* First trip was 3 days and 31 miles in Grand Gulch, UT which is one of the best places to see Anasazi ruins in the wild. NOLS (National Outdoor Leadership School) also takes groups through Grand Gulch on lengthy trips (2-3 weeks backcountry) as part of their course work. http://www.nols.edu
- It was a good trip. Not in my list of top trips but a good one. The best picture was probably one of my tent with a ruin in the background.
- I laid up for an extra day before the hike in Blanding, UT to avoid some weather. Glad I did as I ran into 2 different groups that claimed it "rained mud" the day before (high winds blow sand/dirt high into the air and the rain comes through quickly and brings it down on you).
* 2nd trip was 3 days, 30 miles in Escalante, UT. Route: Egypt trailhead overland to Neon Canyon (and the Golden Cathedral). Up the Escalante River to Choprock then Harris Wash and out. (used a shuttle service).

- This trip was more scenic than the Grand Gulch trip but way harder. The river was running fast and muddy making crossing the river difficult and it was a serious bushwhack up the Escalante River. This is when I learned to hate Tamarisk and the Russian Olive... both invasive species that are overgrown in the southwester river canyons including the Paria (last trip). My visions of a hike up the rocky, cottonwood tree lined wet river canyon with an occasional calf-deep crossing of clear water were fleeting. Grabbing a thorn-studded branch of a Russian Olive tree trying to pull yourself up the steep bank of a thigh deep river will make you bleed. They really need to tell people about the overgrowth when planning the backpacking routes and go do some of these hikes before giving advice. This was still a good trip but I would have planned a different path if I'd known how much bushwhacking was on this route.

This environment can be brutal... other hazards:

- I stared at the Egypt trailhead which is just up the road from the Egypt 3 slot canyon where 2 people were killed in a flash flood in Sept 2008.
- I hiked up North Choprock Canyon as a side trip off my route. In 2005, 2 BYU students were killed in flooding in South Choprock.
- At the back of Neon Canyon is a formation called the Golden Cathedral. There is a route that technical hikers can take that allows them to rappel down through the holes at the top (see picture). Two people rappelled down through it while I was there and I talked to them later. A particular hazard of that hike involves a "keeper pothole". A Keeper Pothole is a deep hole that's extremely hard to get out of and can be filled at times with very cold water. One site I saw afterwards recommended 4 people to hike it and these guys did it with two and had some trouble getting out. Some metal hooks they made bent and failed. Luckily there wasn't deep water in it so hypothermia wasn't an issue. They were able to dig around in the mud at the bottom and stack up rocks high enough for the younger, fit member of the duo to perform the Iron Cross gymnastic move to somehow get out of it. Whoa.
- Dehydration can also be a big problem. I drank somewhere near 2 gallons of water a day.
- Cows present a host of issues with water contamination. I now swear by my method of treating water.

A few last comments on the Escalante hike:

* the Tamarisk (aka Salt Cedar) is an Asian woody bush/tree that takes a particular liking to the sandy, wet river courses. They were planted intentionally in the late 1800's and early 1900's to help prevent erosion and quickly spread. They overgrow the canyons and make river access difficult and hiking very hard. In an effort to control growth, the land management agencies have imported an asian beetle that eats the Tamarisk greens and kills the plant. This is all good except that the dead plants then become a fire hazard.
* I talked to a guy on the way out who had hiked in the area before. He said a long time ago it was pretty wide open and easy going. The last time he said it was really hard due to it being overgrown. He said it was because they took the cows out which kept the vegetation under control. I found that interesting because there had been a recent effort to get all the cows out of Harris Wash. Naturally, noone wants to hike through the cow mess nor have it contaminating the water; but if it makes it easier hiking???

A couple of sites talking about removal projects to get rid of the Tamarisk and Russian Olive.
http://www.southwestguidebooks.com/tamarisk_beetle.htm

http://www.grandcanyontrust.org/programs/kane/paria-tamarisk.php

A correction from the last note: The Rib House opened a new location in Boulder, CO. This is where the 15, 16x24's were used rather than their Longmont, CO location. The food is awesome and the new location is a more upscale type restaurant. It's very nice and I highly recommend it if you're in the area (I had the Ribs!, cheesy corn and beans.... all were great). http://www.theribhouse.com (1801 13th Street • Boulder, Colorado 80302 • 303-442-RIBS). They also had some really nice, very large prints of Kevin Sink's work featured in the main open areas. Kevin's work is fantastic and he recently opened a gallery which I plan to visit fairly soon. 1817 Grand Blvd. Kansas City, MO 64108.

Key to the pictures:

Rainbow Bridge National Monument - 6th longest. I've seen 5 of the top 10. (http://en.wikipedia.org/wiki/List_of_longest_natural_arches)
Merry (Marry) Go Round Rock - our wedding site
Delicate Arch
Choprock Canyon - that's a pool of mud on the right. There's one right behind me that you would have to go through if hiking down canyon or wanted to continue up from the bottom (I stopped)
Antelope Canyon - I saw 2 very similar published photos of the exact same spot later.
Lake Powell (multiple photos) - Gregory Butte, Last Chance Bay, Cookie Jar Butte?, Rainbow near Hite from my trip in 2001
Monument Valley - the famous mittens
Cathedral Rocks - Sedona
Lastly, I'm back in KC and will soon be actively looking for my next gig so if you know of any opportunities, please keep me in mind.

Hágoónee' (Navajo for Goodbye or Until Later),
-Kevin

AmericasWonderlands.com

Copyright 2009 K. Venator